Blog
Employee Experience
How to work from home effectively: Top tools and tips for remote working
As COVID-19 spreads and toilet paper becomes worth its weight in gold, businesses are implementing remote working practices in order to keep staff safe. But if you're new to the world of working remotely, working from home can be an interesting challenge with all the distractions and lack of structure compared to the office. How do you stay motivated when working remotely? Well, put the kettle on and keep your sanitizer handy, because today, we're exploring the services and tools you need to work from home effectively.
1: For employee engagement, performance and wellbeing: Weekly10
Okay, okay. Yes, we're kicking off this list with a bit of shameless self-promotion. But we'd be remiss in our duty if we wrote about the tools you need to work from home and didn't mention the platform at the heart of our business.
When working away from the office, how do you ensure culture and employee engagement remain constant?
Weekly10 offers a variety of tools that take the headache out of employee engagement for remote workers (and those who are office-based). We focus on the role of effective, two-way feedback in building great employee engagement.
The Weekly10 employee check-in allows staff to update their managers about their wellbeing, successes, challenges, personal development and contribution to organisational goals (via SMART Goal or OKRs) in mere minutes. Managers then get to provide feedback, share key points up the business and arrange 1:1s as required to dive deeper.
Our performance review process is highly customisable and based on all the evidence gathered within the employee check-in. Not only does mean appraisals are quick to prepare but also highly effective as all conversations are built upon a body of work, not best guesses and "˜as I remembers'. The ability to gather 360-feedback and record training within Weekly10 only strengthens the effectiveness of performance reviews. 
Weekly10 is also integrated with leading communication tools like Slack and Microsoft Teams to maximise convenience.
Oh, and we offer a free trial upon completion of a 30-minute web demo.
2: For team communication: Slack or Microsoft Teams
Keeping in touch with your colleagues whilst working remotely is obviously a priority, and thankfully there are some great tools for communicating with your team while away from the office.
While there are plenty of direct messaging apps around, few lend themselves to remote teamwork like Slack does. Quick to get to know and simple to use, Slack is so ubiquitous to professional communication that many other apps and tools for teamwork have the ability to connect to it, Weekly10 included.
If you're looking for a communication tool with some extra call functionality (file sharing and best-in-show video conferencing for example) then we'd also like to highlight Microsoft Teams. Our teams here at Weekly10 use both of these apps daily, yet you'll likely just need one or the other in most cases. Both enable users to message privately, set up calendars, share files, and make posts the whole team can see. But Microsoft Teams places more emphasis than Slack does on its video call feature. Lately, we've found it to be a convenient, straightforward stand-in for our face-to-face conversations.
While Slack and Microsoft Teams are subscription-based services, both offer free versions with basic features. Microsoft Teams is also free to all Office 365 users.
3: For AGILE project management: Trello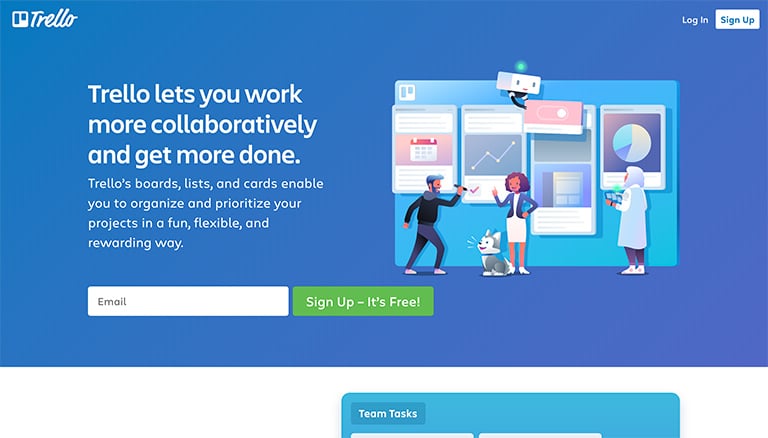 A common concern about remote working initiatives is whether they will negatively impact the team's ability to work cohesively. Fortunately, Trello is here to put those worries to rest.
Trello is a simple yet surprisingly useful project management tool for remote workers especially. Utilising the KANBAN project management strategy, members of a team can create "œboards" of tasks known as "œcards" that can be prioritised and organised into categories as needed. Each card has its own comment chain, can be assigned to the required staff and can be labelled or customised in a variety of ways.
Thanks to Trello's powerful "˜Butler' functionality, automation tools are just a click away too. You can set Trello to automatically mark the card with a chosen symbol while tagging pre-determined team members whenever you drag a card into a specified column.
With proper organisation, Trello makes it easy to tell at a glance how everything is going, and what tasks need prioritising.
4: For file sharing: WeTransfer and OneDrive
We here at Weekly10 mainly love both WeTransfer and OneDrive for file sharing. WeTransfer is useful for sharing files with clients and other third parties, where permanent access to cloud storage isn't a necessity. All you do is upload the file, copy the link, and send it to the client. The links by default will only be active for seven days, but you can shorten or lengthen this as required. The free account allows you to send up to 2GB per transfer, which is plenty generous for most instances.
But when your team needs to cooperate from different locations, OneDrive is much better suited. It's part of Office 365, and so has the level of integration with Microsoft apps that you'd expect. Files can be synchronised to your device for offline viewing, and you can even create new Word, Excel, PowerPoint and OneNote documents in OneDrive directly.
5: For answering your customers: Moneypenny
If staff have to work from home, simple tasks such as answering the phones or picking up webchats can become that much harder to coordinate. So, what do we suggest?
Well, UK-based Moneypenny specialise in business continuity services, including telephone PAs and automated chat management. Moneypenny's PAs are always available, professional to the letter and will answer any call. They will sound and act as if part of your own business, so the customer has no idea they are speaking to a Moneypenny PA. They can reroute calls to you, or take a message if you are unavailable.
If your business is involved in tech, or some other sector that requires live customer chat, Moneypenny's chat management services are perfect for you. Whether you're completely unavailable or just busy, Moneypenny will manage online customer support to your specifications.
6: For remote interviews: Odro
The only thing worse than being quarantined with a job is being quarantined without one. That's where Odro come in. They specialise in video interviews, and were voted #1 Trusted Video Interview Platform in 2019, while also winning the title of "œThe Best Innovator." So don't just work from home. Interview from there too.
They offer a range of services to suit your needs. Applicants can create interview videos answering questions determined by you, or you can conduct and record live interviews with just the click of a button. They even offer a huge variety of analytics data, including how recruiters use the service, which candidates are most popular, how well recruitment videos are performing (down to specific scenes), and much more.
7: For time zone conversion: World Time Buddy
If you're working remotely and need to hook up with the Sydney office, or need to schedule a demo with Singapore, then this could be a real time saver!
World Time Buddy is a handy web service that enables you to tell at a glance what time it is for your team members. You can organise people by location or group, create schedules, track DST, and overlay it all into Google Calendars and other apps. Never again will you ring your teammate in the middle of the day only to wake them up at 3am, thanks to WTB.
8: For helping you focus: Spotify
Yes, we're calling this a remote working app now. In all seriousness though, ambience can do wonders for productivity. In fact, for some, this might be an exciting opportunity to pick the tunes you work to for once.
If you hadn't already heard of Spotify, well, welcome to the world first of all. It has practically every piece of recorded music under the sun and is constantly growing. Aside from the mainstream, there are a lot of niche artists on there too. You can even give it a song and have it generate "œradio stations" based off of your choice, or select a playlist based on mood or activity. - if you're in need of some concentration music with a bit of a difference, check out "˜Vitamin String Quartet', they are fab!
If working to music isn't your thing, they also have a rich library of podcasts. Spotify is available free with ads, or ad-free through premium membership.
These are the tools and services we would recommend if you have to work from home during this outbreak. If you'd like another read, why not check out our top ten tips on how to be a happy and effective worker article. Stay safe, and remember to wash your hands and send us toilet roll/hand sanitiser as thanks!

Interested in learning more about how Weekly10 can help you work from home?