Shed a little light
When your people check-in regularly, their sense of belonging increases and they feel valued. Their performance improves too.
Watch a demo
Workplace Wellbeing
Mental health and workplace wellbeing check-in
Support your people to be their best self by talking about wellbeing in your weekly employee check-in.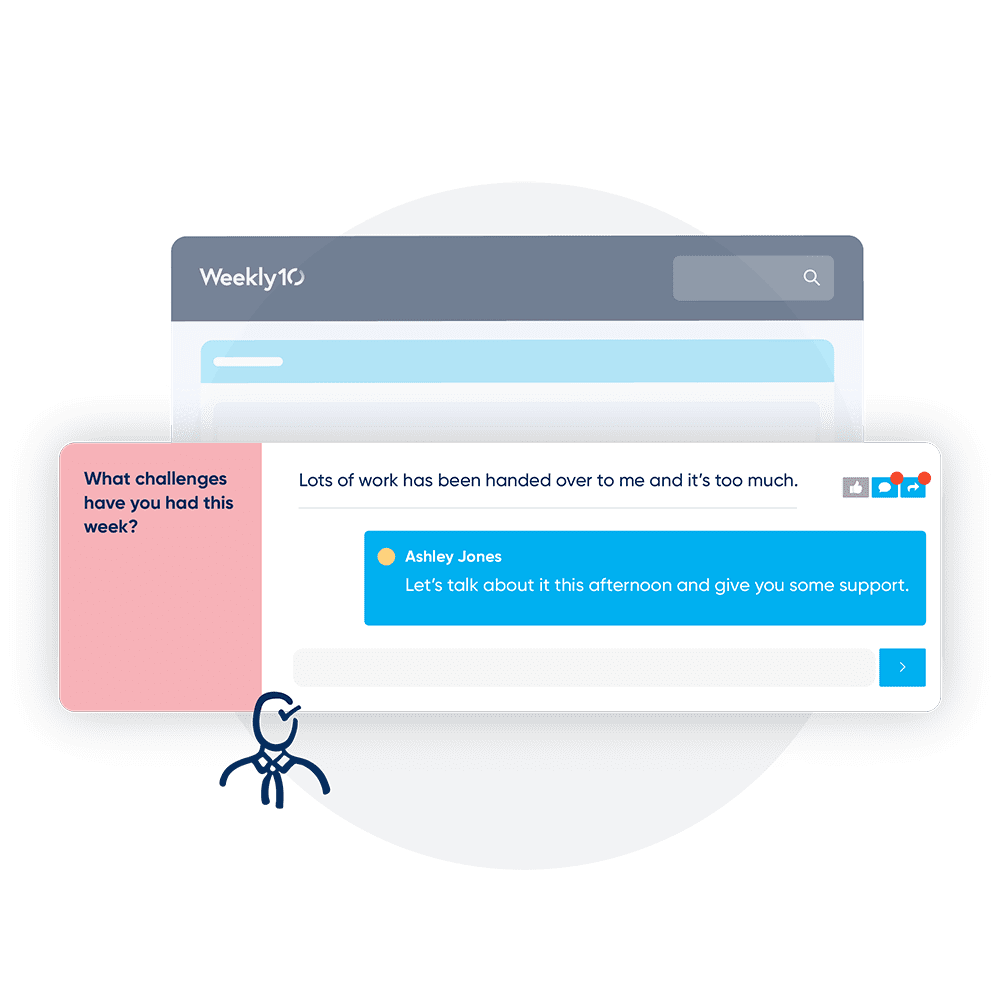 Making conversations about wellbeing the norm
Workplace cultures built on honesty and two-way communication are better for employee wellbeing. Having happy, healthy, engaged people should be a priority for every organisation whether your people are office-based or remote.
Companies with clear wellbeing strategies have 44% higher employee engagement and 31% less absence due to sickness.
Confidential questions for getting wellbeing help
Use employee wellbeing questions in your Weekly10 check-in schedule. Route the responses directly to your wellbeing team, rather than your employees' manager, for quick and confidential support.
Give your people regular reminders that you offer mental health, financial or bereavement support. This can encourage your people to ask for help earlier rather than suffer in silence. Ask questions weekly or ad hoc based on engagement or performance levels.
Break the stigma of talking about mental health
Poor communication means employees feel isolated and disengaged. The regular, journal-style of the workplace wellbeing check-in helps managers and their teams have better conversations about personal matters, without being intrusive or overbearing.
When we feel comfortable to bring our whole selves to work, we feel more engaged and have a better sense of belonging. Our engagement and performance naturally improves too as a result.
Ready to join?
See the difference a Weekly10 check-in makes.
Give your employees the power to improve their culture and success through engaging performance.
This website uses cookies to improve your experience. We'll assume you're ok with this, but you can opt-out if you wish.
Privacy Overview
This website uses cookies to improve your experience while you navigate through the website. Out of these, the cookies that are categorized as necessary are stored on your browser as they are essential for the working of basic functionalities of the website. We also use third-party cookies that help us analyze and understand how you use this website. These cookies will be stored in your browser only with your consent. You also have the option to opt-out of these cookies. But opting out of some of these cookies may affect your browsing experience.