Blog
Microsoft Teams
The best apps on Microsoft Teams for collaboration and greater performance
We're several months into the "new normal" now, and it's looking like remote work is here to stay regardless of what happens. With the huge increase in the amount of remote work going on around the globe, Microsoft Teams has seen an equally meteoric rise, climbing to over 100 million daily users over the past 5 months.
So as the leading employee engagement app on Microsoft Teams, we thought it was about time we give you our picks (in no particular order) for the ten app integrations on Teams that we think businesses should be using, especially when working remotely.
The best app integrations for Microsoft Teams
1: Trello
We're kicking this list of app integrations for Microsoft Teams off with software you'll all already know and we get a lot of use out of here at Weekly10 - which is why it also featured on our list of best remote work software earlier this year.
For the uninitiated, Trello allows users to create notes (or cards), each with their own title, body text and comment section, organised into columns. Users can share their workspaces with colleagues and set up automatic behaviours, such as tagging and alerting a colleague when you move a project's card into their review column.
The reason we like Trello so much is that it's effective yet minimalist, and easy to get to grips with. The Microsoft Teams app is no different and allows agile project management all within the Teams eco-system.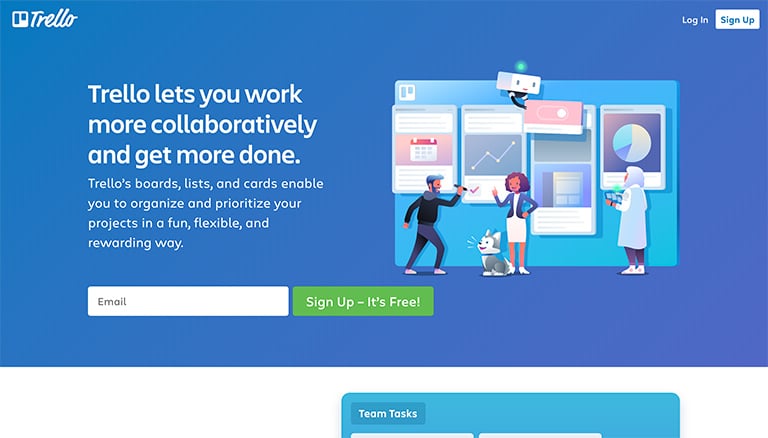 2: Miro
Miro is a virtual collaboration tool, similar in aim to Trello but it goes about it in a completely different way. The main difference is that, whereas Trello is like a well-organised stack of notes, Miro is a virtual collaborative whiteboard.
With one app integration being more visual than the other, whether you prefer Miro or Trello is likely a matter of personal preference (and perhaps the sort of projects you're team are working on). As it's a very popular service, many app integrations for Microsoft Teams have similar purposes and functions, so experiment and figure out what works best for you.
3: Polly
If ours isn't the first article on app integrations for Teams that you've read, then you'll have noticed Polly near the top of quite a few lists. Polly is another integration that's so simple, yet for the right situations extremely effective. As you might have guessed, it's a tool for implementing polls in your Teams group chats to gauge employee attitudes and opinions.
Polly makes reading the room quick and easy, even when you're apart, though one drawback is the polls are often a little too simplistic where detail and rich, effective feedback are required.
4: Weekly10
As you can see, we've been very modest by not even putting our own integration in the top three (even though this isn't a ranked list!). But that's not to sell it short. If you're looking for an app for Microsoft Teams that can help keep your remote workers engaged, then this is the one for you. 
Weekly10's employee check-in allows managers to exchange continuous feedback with their employees in a process that only takes minutes each week (or less regular if that sounds a little too much for your company - though weekly has been found to be optimal!). 
Employees fill out updates answering personalised questions with the added opportunity to share performance updates based around SMART Goals or OKRs that feed into company objectives in a way that's easy to understand.
Checking in via Teams also supports more effective performance reviews by allowing each employee to communicate with their managers completely confidentially. Managers can even create bespoke reports on employee sentiment compiled using our proprietary machine-learning algorithm. Regular check-ins not only boost engagement but are also fantastic for reducing turnover.
5: Adobe Creative Cloud
If your line of work has anything to do with visual presentation and graphical design then Adobe Creative Cloud is the app integration for you.
Adobe's computer applications are some of the most widely used in the professional world, so we probably don't need to go on about what they do.
But the app integration is fantastic because it makes sharing various graphic design/visual presentation assets with your colleagues on Teams incredibly easy. Without it, you'd have to screen-share and guide people through your work yourself, but this way, people can explore your work at their own pace and refer back to it anytime.
6: Google Analytics
We can't overstate how vital good SEO is for us here at Weekly10, and as they're the world's leading search engine service, Google's own Analytics package plays a huge role in that. Thanks to their Teams app integration, it's easy to share updates and overview reports with your colleagues.
7: GitHub
GitHub prides itself on being the world's leading software development platform with over 50 million users. So it only makes sense that, like many other services on the internet, they have a Teams app integration. GitHub's integration makes sharing code with your colleagues and checking each other's work an absolute cinch.
8: AttendanceBot
Coordinating effectively is one of those things that can get just a bit trickier when you're working together remotely. AttendanceBot makes organising things like shift patterns, holiday time or paid time off incredibly easy.
Once it's integrated, all employees have to do is tag @attendancebot in their message (similar to Twitter tagging, or the recognition-based questions in our employee check-in) followed by a message such as "œPTO tomorrow" or "œvacation from the 5th to the 11th of March". From these, AttendanceBot puts together sleek schedules and sends automated reminders to make remote coordination a breeze. A perfect solution for SMEs without a fully-fledged HRIS.
9: Health Hero
Managers have a duty of care to their remote staff. Plus, given that the main reason remote work is currently so prevalent is because of an international health crisis, it's not too surprising that managers are taking steps to ensure good physical wellbeing in their team.
Health Hero makes it possible to run fitness challenges with your teams, with leaderboards and everything. Health Hero also integrates with just about every popular fitness app out there, so everyone should be able to plug-in.
10: Jira (server and cloud)
Again, while this is sort of a top ten list, we're not exactly trying to rank them. But on Teams, there are just so many options for project management tools that since we started with one, we figured we should end on one too.
If Trello and Miro aren't to your tastes (or if you need a variety of options), then maybe Jira is the one for you. There are two to pick from, although you could install both: Jira Cloud, which is touted as a simpler and easier to maintain option, while Jira Server has greater security, but is more complex. Similarly to GitHub, these apps also allow for the sharing of code.
So those are 10 of the best apps for Microsoft Teams that we'd suggest you have a look at. But there are more being developed every day, and it's always worth checking Teams' app store for the latest developments - feel free to comment your favourites that we have missed down below.
To learn more about maximising employee engagement through Microsoft Teams, be sure to pay a visit to the Weekly10 blog today!
Interested in the benefits of a weekly check-in that powers recognition, frequent feedback and continuous performance management?